Looking for a good place to take care business while satiating your hunger? Look no further. We have compiled a list of some of the best restaurants in Kansas City to impress a new client, celebrate a successful venture, or just casually smooth out the details of a company project.
The Plaza III Steakhouse has earned its reputation over the last 45 years a Kansas City institution. Clients and associates are sure to be impressed by the professional service and classic ambiance.
McCormick & Schmick's Seafood Restaurant
Nothing in KC can compare to McCormick & Schmick when it comes to seafood. The restaurant offers a variety of private and semi-private dining options that make it a perfect place to strike a deal.
Fiorella's Jack Stack Barbecue
If your clients would like to sample some of Kansas City's famous BBQ, Jack Stack's Freight House location in the Crossroads district serves up award-winning barbecue in a refined atmosphere.
Where to toast to triumph
The Cashew is the perfect place to go for a celebratory lunch with coworkers. The unique open-air environment and sleek and contemporary décor give The Cashew an upscale feel without being stuffy. Voted #1 for the City's Best Cocktails, The Cashew will serve up the perfect drink to cheers to your success.
After a successful meeting with investors or winning a pitch, why not stop for a good lunch? You should head to the rooftop at Tnext

he Well in Waldo for a drink and some great food before heading back to your desk. Every entrepreneur deserves to have a little fun.
Where to grab a quick bite
If you are looking for a fantastic meal that is served fresh and fast, look no further than The Mixx. Choose from a variety of innovative salads, sandwiches and soups or make your own with their endless assortment of ingredients. You can choose to dine in their hip and colorful atmosphere or conveniently bring it back to the office and continue working.
Located in the heart of the Crossroads District, Grinders is a local dive with an awesome bar food that offers something for everyone. The restaurant has an urban and edgy feel that make it a perfect lunch escape from the corporate grind.
KC BBQ in a gas station? It doesn't get much better than that. Oklahoma Joe's is some of the best barbecue in the city, and they have a slew of awards to prove it. Grab a few of your coworkers and head for the KCK gas station for some finger-lickin' good barbeque.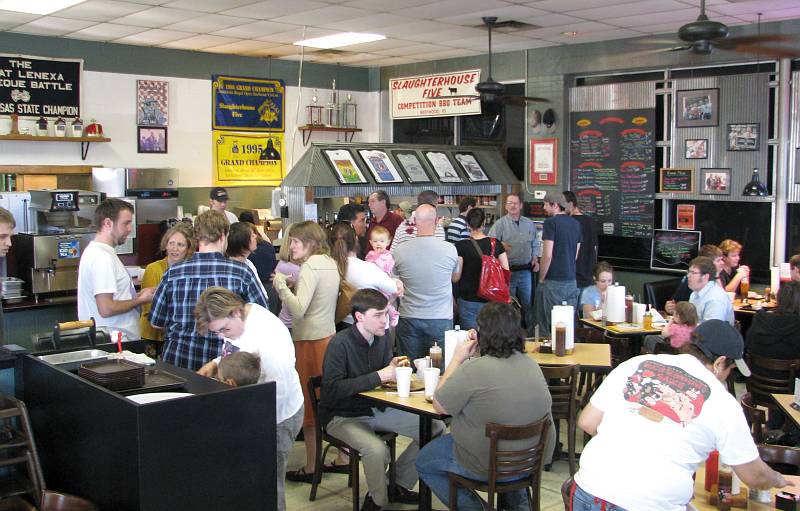 Pizza is always a crowd-pleaser and The Art of Pizza in the Crossroads has scrumptious New York style pizza. It is an easy meal to bring into the office or you can eat there in their comfortable and eclectic dining room. At lunch they serve up a great lunch special complete with a salad, slice and drink.
So what's it going to be, entrepreneurs? Seafood with clients? Salads with coworkers? Champagne with partners? Whatever the occasion may be, grab your power lunch at one of these fantastic Kansas City establishments, and you're sure to get your fill of food and fun.